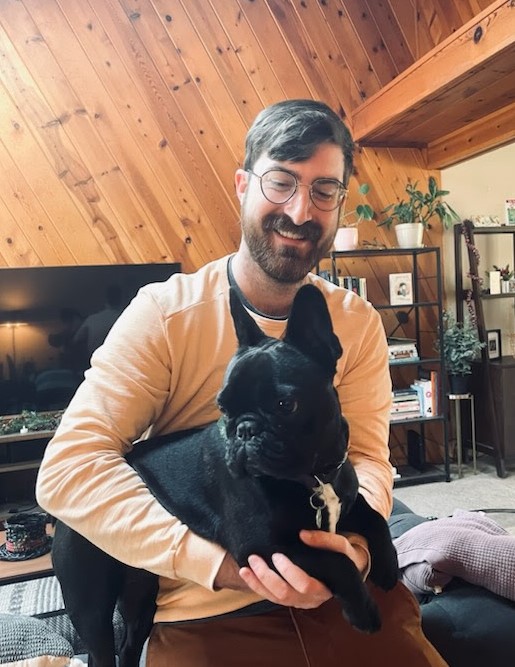 Hey! I'm Jason. I'm a 3D character animator based in the California Bay Area. In addition to animation and film-making, I get excited about creating with new technologies. I've contributed to a variety of projects, including animated VR short films, AR apps, interactive music videos, and mobile games. Currently I'm an Animation Supervisor at
Evil Eye Pictures
, animating in Unreal Engine on video game trailers, with sporatic Tech Anim responsibilities as well. I originally hail from Pennsylvania, but I got my BFA in Animation at SCAD in Georgia. Luckily,
my first short film
I made there as a senior gained some recognition. Soon after, the folks at Encyclopedia Pictura invited me out to San Francisco to work on a music video. I've been here since! I'm very grateful to say that makes almost 10 years working in the industry with a lot of amazing people. Current interests:
coding animation tools in Python
, sculpting in Blender, and teaching tricks to Poppy (our French Bulldog).
Software Knowledge:
Maya, Blender, Unreal Engine, Unity, Python
Work Experience:
2021 - Present
Evil Eye Pictures
Animation Supervisor for video game trailers in Unreal Engine. Some Tech Anim contributions.
2019 - 2021
Jam City
Animating cutscenes and playspace actions for the mobile game Vineyard Valley. Also responsible for implementing animations in Unity.
2018 - 2019
Evil Eye Pictures
3D Character animation, movement system prototyping and technical setup for Google AR apps, especially the AR camera app "Playground."
2016 - 2018
Jam City
Animated superheroes flying around, fighting, and goofing off in the Marvel Avengers Academy mobile game. Participated in animation planning meetings.
2015 - 2016
Freelance
Worked on various animation projects. Often responsible for start-to-finish modeling, rigging, and animation of characters, under direction of the client or creative director. Clients include: Toca Boca, Robert Paraguassu, Motional LLC, Ataboy Studios, Aatma Studio
2014 - 2015
Encyclopedia Pictura
Character animation and modeling on the music video for "Boys Latin" by Panda Bear, plus an interactive music video app.
Recognition:
2015
Official Selection: Annecy International Animation Film Festival
2014
Annie Awards: Best Student Film
2014
Top Shorts Online Film Festival: Best Animation
2014
CartoonBrew.com Student Film Fest Finalist
2014
Vimeo Staff Pick
Education:
2014
BFA - Animation - Savannah College of Art and Design
Artistic and Academic Honors scholarship, Dean's List: 2010 - 2014